Today marks our one-year anniversary of full-time travel! Far from being ready to stop, we're sticking to our original plan to keep going for a second year. Whah….?
OK, let's be honest: sometimes we do get tired of being on the move. To fend off travel fatigue, we try to strike a balance between being on the go and just being; between doing "tourist things" and simply experiencing life in another culture; and between living fully in the present and planning for the future. We just spent a relaxing week in Ayacucho, Peru, doing a but of tourism but mostly we just chilled out and enjoyed our hotel overlooking the lovely Plaza Mayor.
During our three months so far in South America we've taken three epic hikes (see our blogs on Torres Del Paine, the Inca Trail to Machu Picchu, and Choquequirao) and many day hikes, but we're not as physically active on a daily basis as we were in 2017 when we were hiking 4-5 days a week. Without our own wheels, we can't match that. So we miss living outdoors. But in exchange, it's been highly stimulating to immerse ourselves in the cultures and the language, the music and the food, and we're learning a lot of history. Ayacucho was particularly interesting, on multiple levels, and we'll write a separate blog about that soon.
Even when our feet are happily on the ground in one place, we're also working on future plans. It can be a bit crazy; sometimes I open the AirBnB app and can't remember if I'm looking for a place to stay tomorrow night, next week, next month, three months from now, or all of the above!
Continental Shift
We'll leave South America on May 16, after a diverse and fascinating three and a half months in Argentina, Chile, and Peru. There is a lot more to explore on this amazing continent, and we will definitely be back because we barely scratched the surface of these three large countries, let alone the others we haven't yet visited.
On May 16, we fly to Florida to come together with our family for a few days to celebrate Bob's dad Saul, who passed away in January. Then we'll cross the pond to begin the next phase of our adventures in Europe, which will take us through to early December.
Here's a rundown of our plans. Let us know if you'd like to join us for any part of it. We'd love to have you–really!
From May 22-June 28 we'll be in Spain. This will be my first time in Spain (the fourth time for Bob), and it's a good way to continue speaking Spanish. After a week in Madrid, we'll spend three plus weeks in Asturias, northern Spain. Asturias is the most mountainous region of Spain–bring on the hiking! It also has a ruggedly beautiful coastline and is a major cheese- and cider-producing region.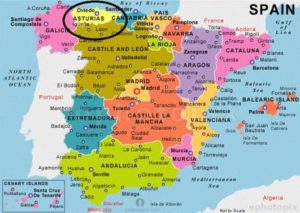 In Asturias, we'll start with two work-stays–one on the eco-farm El Topal in Padenas and another near Villaviciosa helping to rebuild a crumbling 19th-century mansion. After that, we've rented an apartment in the historic city of Oviedo. The provincial capital of Asturias, Oviedo is the starting point for the original Camino de Santiago. We may walk the Camino for a few days after two weeks using Oviedo as a basecamp to explore the mountains, the coast, and the countryside.
On June 28, we're off to London to start a three-month stay in the United Kingdom. Going to the UK was not part of our original plan; we wanted to spend the entire time in Southern Europe. But after booking a December flight back to the US from Madrid we learned that, without lots of effort, non-Europeans cannot stay more than 90 days in the "Schengen zone" in any 180-day period. Yikes! The Schengen zone encompasses all of continental Western Europe, including all the places we had intended to call "home" for seven months.
So we needed to choose a place to visit for three months outside the zone. We chose the UK because it is affordable and easy to get there from Spain, and also happens to be a place that we love, where we have good friends, and where we speak the language. We'll visit with friends for the first couple of weeks. Then, we've booked a cottage for a month in Hay-on-Wye, Wales, which we'll use as a basecamp for exploring the Welsh countryside. Bob's mom Heide will join us for a week or so. (Go, Heide!) Bob's family lived in England in the late '60s/early '70s, so Heide will be returning to her old stomping grounds and visiting longtime friends.
After our stint in Wales, we'll head north, where we have decided to take three weeks to walk the iconic Coast-to-Coast walk, which traverses England from west-to-east from St. Bee's to Robin Hood's Bay.
The coast-to-coast walk is one of the great long-distance walks of the world. We've wanted to it for many years, but couldn't fit it into a "normal" vacation. The whole route is 192 miles and can be completed in 15 days, but we're building in a few rest days to enjoy the villages along the way. We'll do the walk on our own (without a guide or a group), but we'll hire a company to book our lodging and schlep our luggage, which is a model that's worked well for us in the past.
If the idea of long-distance walking appeals to you in please consider joining us for all or part of the route. It's possible to sign up for just the western, central, or eastern sections. The walk goes over rolling hills, around bogs and moors, sheep and cows, through and over turnstiles. At the end of the day, there's always a pub offering local ale and hearty food, and an inn with a hot shower and a real bed. We love it!
At the end of September, we'll head back to Southern Europe. We're still working on this part of the plan, but it will probably take us to southern Italy (Puglia and/or Sicily), Spain, and maybe a bit of Portugal, if we have time and the weather is still favorable. We had intended to spend much of the summer in Portugal, but that plan was crushed by the Schengen rules.
We'd love to hear any suggestions you have about our itinerary, and as stated above, we welcome friends to join us at any time! Send us an email.
Take care, amigos!